We know that you like to maintain a daily routine while being on the road, but it can often be difficult to keep up your exercise routine while traveling. Westin has recently partnered with New Balance to provide athletic shoes and apparel during your stay, for a fee*. To request your gear, simply inquire at check in, call prior to arrival, or dial Service Express®. Your gear will be delivered to your room all prepared in your requested size. Shoes come with socks that are brand new and apparel is provided fresh and clean.

We are excited to announce that you can now take advantage of our gear lending program. Click here to learn more about Westin's gear lending program, or call us for more details.

Relax knowing The Westin Arlington Gateway will take care of everything. We'll help you stay fit and relaxed so you leave Washington, D.C. feeling better than when you arrived. Book your stay today.
Be sure to use our convenient Running Map for 3 mile and 5 mile jogging/walking routes from our hotel.
For a better you.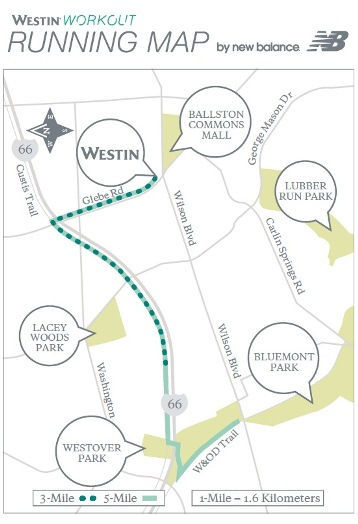 Running Map Directions
3 Mile Route
1. From the hotel, turn right along North Glebe Road. In about 1/2
mile, you'll cross a bridge over Route 66.
2. After crossing Route 66, make a right onto the path marked by
a green sign that says "Bike Route" followed by sharp right
which takes you on the path under Glebe Road.
3. Continue and go west on the Martha Custis trail. There are
mile markers along the trail. When you get to the first mile
marker, you've gone about .75miles.
4. After the .5 mile marker, before a long downhill, a footbridge
crosses over the path. Turn around here and retrace your steps
back to the hotel.
5 Mile Route
1. Follow steps 1-3 above. Continue along the Martha Custis Trail
until it reaches a pedestrian stop sign. Turn right.
2. Turn left onto the Washington & Old Dominion (W&OD) Trail.
3. At the Wilson Boulevard bridge, turn around and head back to
the hotel.